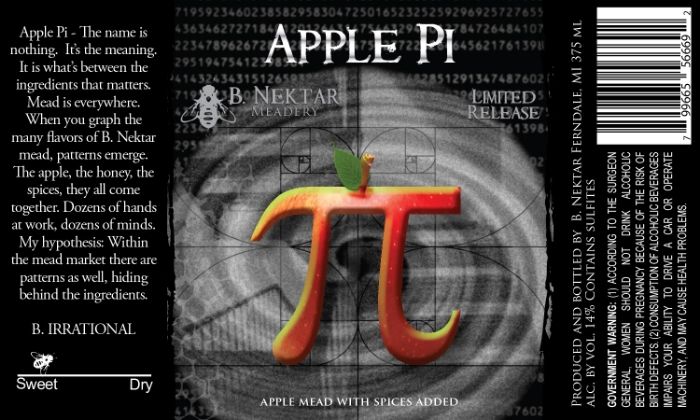 ABV: 14%

Still mead
Packaging: 375 ml bottles

Avaliability: Limited release
Suggested Retail: $13.99
Label Description: Apple PI- The name is nothing. It's the meaning. It's what's between the ingredients that matters. Mead is everywhere.
When you graph the many flavors of B. Nektar mead, patterns emerge. The apple, the honey, the spices, they all come together.
Dozens of hands at work, dozens of minds. My hypothesis: Within the mead market there are patterns as well, hiding behind the ingredients.
ABV: 15.5%

Still mead
Packaging: 375 ml bottles

Avaliability: Limited release
Suggested Retail: $25
Label Description:

It is a dark time for the rebel army. The evil empire has silenced the rebels' voice. In an effort to strengthen their cause, the rebels sent out thousands of bottles across the galaxy.
But the imperial troops are hot on their trail. The revolution begins today. Help us, B. Nektar fans... You're our only hope.
I have to laugh, because I've outsmarted even myself. My enemy, my foe, is a human. In order to conquer the human, I have to learn to think like a human. And, whenever possible, to look like one. I've gotta get inside this guy's skin and crawl around for a few days. Who's the golfer's ally? His friends. The harmless greenskeeper and the friendly caddy. A varmint will never quit - ever. So you have to fall back on superior intelligence and superior firepower. And that's all she wrote.
Messing with them is like zen, man. It's the reason we get up before the sun even shows its face. It's our game - a ruined fairway here, a twisted ankle there. All designed to get that silly groundskeeper into a strappy shirt at the funny farm. But the real moment - this is the good stuff, so listen close - is that one perfect dig. The one that sits hidden on the green, right next to the cup. You dig that hole juuuuuuust right, and that poor shmuck golfer never knows where his ball went.
It takes guts to dig that hole. Great big gobs of greasy, grimy gopher guts. A varmint needs a good drink if he wants to play for keeps, and this is the one. We start with Tallow honey, of course, the Nektar of the gods. Add in a slice of Four Seasons lemon juice. We give the drink some loft with South Indian black tea, off the luckiest tea trees. Tell you what, my fellow varmint: with this drink cooling our furry brows, those stupid caddies in their dumb shack won't know what hit 'em.
Cinderella story. Outta nowhere. A former meadmaker, now, about to become the Mazer champion. It looks like a mirac... It's in the hole! It's in the hole!!!!
ABV: 6%
Lightly Carbonated
Packaging: 500 ml bottles, 1/6 BBL kegs
Avaliability: Limited release
Suggested Retail: $7.99 per bottle
Our new 10oz logo glassware has arrived. It's the perfect serving of our line of carbonated, session meads. Bars will love it's perfect pour size to control inventory. And they make a great addition to your home bar. How many pint glasses do you need anyway? How about something made just for mead, or your special bottles or rarities. They are a great size for bottle sharing. Only $6.50 each.
Pronounced:
Necro-MANGO-Con
ABV: 6%
Carbonation: Very light. < 2 volumes
Packaging: 500ml bottles and 1/6BBL kegs.
Suggested Retail Price: $8.99
Availability: We're expecting to make this a year-round offering, but that will be dependent on the demand. It will slowly be released to all our markets starting March 25th, 2013.
Label Description:
Swallow this...
Many years ago, a mysterious book was discovered by a group of friends in a Ferndale, MI basement. A translation of its contents revealed the recipe for an ancient beverage using mango juice, honey, and black pepper. What they didn't realize was that creating the beverage had dire consequences. Stricken by fear after its compleation, the friends tried to contain the terrifying forces into this very bottle. Once opened, however, no one can say for sure if it can be conquered. Defend your soul or join us...
B. Smart - B. S-MART
In the Spring of 2011, we released an experimental new mead that would change history. Little did we know, that the concoction would have a devastating effect on the zombie population that has been plaguing the Earth. When we released this mead to the general public, the lines were out the door. When we ran out, a general panic set in. For the good of mankind, we decided to make this a year-round offering.
Artwork: by Marcus Christy (Marcus Worx) (Find him on Facebook)
Description: Apple cider with honey and tart cherry juice. Lightly carbonated.
Alcohol: 6% ABV
Package: 500ml bottles (beer bottles with crown cap) and 1/6 barrel kegs.
Estimated Retail Price: $9.99 each
Awards: Gold Medal at the 2011 Mazer Cup International
Press: Recently featured in the Detroit Metro Times
---